Colorado Board Of Directors
We are excited present the WIPA Colorado Chapter Board of Directors. These Directors are esteemed professionals whose passion for our industry is evident in the work they produce. Their presence in Colorado will allow the growth of WIPA so we can continue to bring new standards, education and sense of community to all wedding professionals.
PRESIDENT
2023
Jessica Gillespie
White Birch Weddings & Events
TREASURER
2023-2024
Ian Santiago
IVS Photography
SECRETARY
2023
Ashley Cunningham
Thoughtfully Curated Events
IMMEDIATE PAST PRESIDENT
Leorah Young
Sheraton Denver Downtown
DIRECTOR OF MEMBERSHIP
2023-2024
Mike Bradley
Visualanties
DIRECTOR OF MEMBERSHIP RETENTION
2023-2024
DIRECTOR OF DIVERSITY, EQUITY & INCLUSION
2023-2024
Payton Bernstine
Promise Event Planners
DIRECTOR OF EDUCATION
2023
Bryan Lipman
Great Family Reunion
DIRECTOR OF PROGRAMS
2023-2024
Sydney Reinhardt
Milk Glass Productions
DIRECTOR OF MARKETING & COMMUNICATION
2023-2024
Caroline Robert
Caroline's Collective
DIRECTOR OF COMMUNITY SERVICE
2023-2024
Ali Horner
Ali & Garrett Photographers
DIRECTOR OF SPONSORSHIP
2022-2023
DIRECTOR AT LARGE: PROGRAMS
2023
Brittany Cook
Cloud 9 Weddings & Papers
DIRECTOR AT LARGE: MARKETING
2023
Melissa Fike
The Broadmoor
Upcoming WIPA Colorado Events
Time to Celebrate! Register for
1970's Ski Chalet: A Slammin' Telluride Party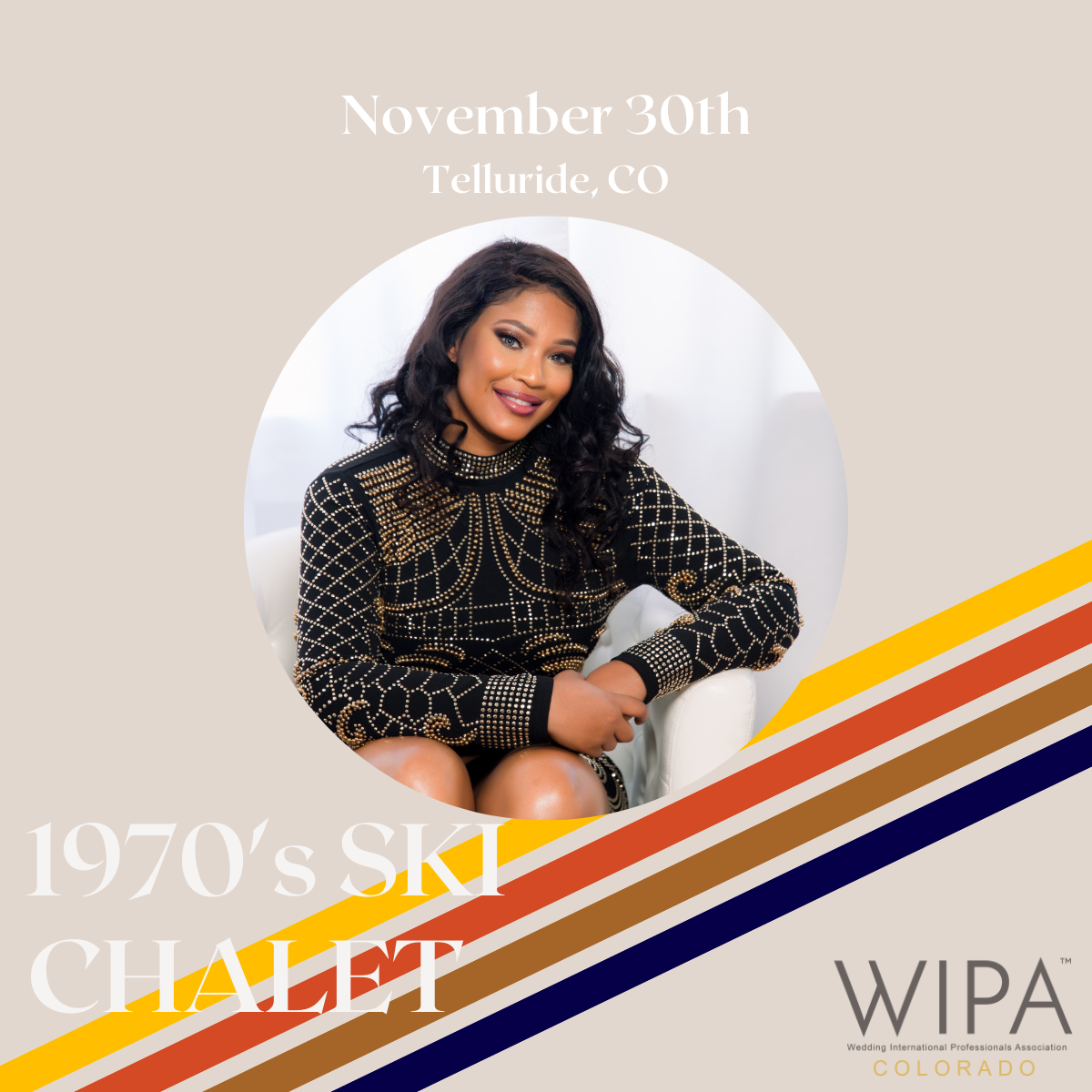 Telluride went from a mountain mining town to a flourishing, free-spirited ski town in the 1970s. So we're throwing it back to this fab time where we can celebrate the close of the 2023 season with all our industry friends dressed in our best ski chalet 70s threads! Space is limited, so register early to secure your spot. Registration is currently open to members and then to non-members on November 2nd, pending space availability!
Registration closes November 16
Member Early Registration: $120
Member Late Registration (October 21st): $145
Non-Member Registration (Available November 2nd): $170
Registration closes on November 16th
**Don't wait to register – we do expect to sell out!
Featured speaker Terrica Skaggs
"Stay in Your Lane- Tune Out the Noise of Competition & Comparison
and Into Your Own Brand of Success"
Check out our Event Website for wardrobe inspiration,
hotel links, and other up to the minute information!
wipa.org/colorado-event-page
Please note hotel rates are subject to availability and are limited in inventory.
For the best rates, book early!
Event Schedule:
2:00p Ice Skating (weather dependent) – Reflection Plaza
4:00p Registration & Cocktails ~ Madeline Hotel
5:00pm Speaker ~ Madeline Hotel
6:30pm Dinner & Dancing ~ The Peaks Resort & Spa
Friday 9-11:00am Brunch ~ Mountain Lodge Telluride
We will be hosting a fabulous silent auction to benefit Wish Upon a Wedding. Your generosity can make a world of difference in granting wedding wishes to those in need. Let's come together and create a magical evening!
If you have questions about this event,
please click here to email the chapter directly.
Connect On Social Media With WIPA Colorado